Here's a picture of my dearest Benjamin I drew today. I have never drawn anything before, I mostly write to express my feelings, but today I felt that I needed to draw. The combination of love and grief can do things a person never could have expected. I love and miss you dearly, Benjamin.

~Love, Mommy

"When I Must Leave You"
When I must leave you for
a little while
Please do not grieve and
shed wild tears
And hug your sorrow to you
through the years
But start out bravely with
a gallant smile;
And for my sake and in my
name live on and do all things
the same, Feed not your loneliness
on empty days,
But fill each waking hour
in useful ways,
Reach out your hand in comfort
and in cheer
And I in turn will comfort you
and hold you near;
And never, never be
afraid to die,
For I am waiting for
you in the sky!

Psalm 55: 1-3, 4-7, 16-17, 22
Give ear to my prayer, O God; do not hide yourself from my request.
Attend to me, and answer me; I am troubled in my complaint. I am distraught.
Fear and trembling come upon me, and horror overwhelms me. And I say, "O that I had wings like a dove! I would fly away and be at rest; truly, I would flee far away;
************
Cast your burden on the Lord, and he will sustain you; he will never permit the righteous to be moved.
ONE MORE TIME
Lost and feeling low, not knowing where to go
Running out of steam with no vision or dream,
I am frightened and afraid
losing sight of plans I've made.
Wishing on a star, not knowing where you are.
Refrain: One more time I will trust you.
One more time I will try
I reach out my hand
with a prayer in my heart.
I am your child
You are my divine
At the end of my rope
I will hold onto the hope
That you will see me through this
one more time,
Stormy winds that blow, toss me to and fro,
And like the grains of sand I'm drifting
through the land.
And time and time again I wonder
where I've been
Trying hard to see, the path ahead of me.

Bridge: I come before you, I am down.
On my knees I'm crying, crying, crying

Saturday, May 13, 2000
(17 days since Ben's death)
Encompassed by the darkness, the bitter, painful hopelessness. Enveloped by a pain deeper than the universe. Where is my precious boy? My heart yearns to feel his touch, see his beauty, smell his being. When will we see the light? No time soon…I know. For now, we are partners with despair, anguish, misery, loneliness. My son is gone. My precious boy is gone. Lord, help me to hang on.
~Ben's mommy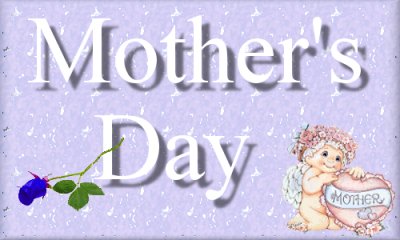 May 14, 2000 - 18 days since Ben's death
What Makes a Mother
I thought of you and closed my eyes
And prayed to God today.
I asked what makes a Mother and I know I heard him say.
A Mother has a baby This we know is true
But God can you be a Mother When your baby's not with you?
Yes, you can He replied With confidence in His voice.
I give many women babies When they leave is not their choice.
Some I send for a lifetime And others for the day.
And some I send to feel your womb
But there's no need to stay.
I just don't understand this God I want my baby here.
He took a breath and cleared His throat And then I saw a tear.
I wish I could show you What your child is doing today.
If you could see your child smile With other children and say....
"We go to earth to learn our lessons Of love and life and fear
My Mommy loved me oh so much
I got to come straight here
I feel so lucky to have a Mom Who had so much love for me
I learned my lessons very quickly
My Mommy set me free.
I miss my Mommy oh so much But I visit her each day.
When she goes to sleep On her pillow's where I lay.
I stroke her hair and kiss her cheek And whisper in her ear.
Mommy don't be sad today "I'm your baby and I'm here."
So you see my dear sweet one Your children are ok.
Your babies are here in My home And this is where they'll stay.
They'll wait for you with Me Until your lessons through.
And on the day that you come home,
they'll be at the gates for you.
So now you see What makes a Mother.
It's the feeling in your heart.
It's the love you had so much of Right from the very start.
Though some of earth may not realize until their time is done.
Remember all the love you have
And know that you are a Special Mom!
~Author Unknown~
(Thanks to Kaylee and her mom for this beautiful Mother's day picture and poem.)
Starlight shining in his eyes
His laughter setting the stars a-twinkle
Bringing smiles to angel faces
They have welcomed the young soldier
Home from earthly battles bravely fought,
Placing him gently, softly,
In the nail-scarred arms of the King.
"Welcome, little soldier," the King says softly,
"The battle is over, true life has now begun."
Letter from Heaven

To my dearest family some things I'd like to say,
But first of all to let you know that I arrived ok,
I'm writing this from heaven where I dwell with God above,
Where there's no more tears or sadness,
There is just eternal love.
Please do not be unhappy just because I'm out of sight,
Remember I'm with you every morning, noon and night.

That day I had to leave you,
When my life on earth was through,
God picked me up and hugged me and said "I welcome you"
"It's good to have you back again, You were missed while you were gone,
As for your precious family, they'll be here later on".

"I need you here so badly as part of my big plan,
There is so much we have to do to help our mortal man".
Then God gave me a list of things he wished for me to do,
And foremost on that list of mine is to watch over you.
And I will be beside you every day, week and year,
And when you're sad I'm standing there to wipe away the tears.
And when you lie in bed at night, the days chores put to flight,
God and I are closer to you in the middle of the night.

When you think of my life on earth and all those living years,
Because you're only human they are bound to bring some tears.
But do not be afraid to cry, it does relieve the pain.
Remember there'd be no flowers unless there was some rain.
But one thing is for certain though my life on earth is over,
I'm closer to you now than I ever was before.

And to my many friends ....
Trust God knows what is best.
I'm still not far away from you...
I'm just beyond the crest.
And there are rocky roads ahead and many hills to climb,
But together we can do it taking one step at a time.

If you can help somebody who's in sorrow or in pain,
Then you can say to God at night "My day was not in vain".
And now I am contented, that my life it was worthwhile,
Knowing as I passed along I made someone smile.
So if you meet somebody who is down and feeling low,
Just lend a hand to pick him up as on your way you go.
When you are walking down the street
and you've got me on your mind
I'm walking in your foot steps only half a step behind.
And when you feel that gentle breeze or the wind upon your face,
That's me giving you a great big hug
or just a soft embrace.
And when it's time for you to go,
from the body to be free,
Remember your not going,
you're coming here to me.
I wish that I could tell you of all that God has planned,
But if I were to tell you, you would not understand.
And I will always love you from this land way up above,
We'll be in touch again soon,
For now, God sends his love.

Author Unknown
June 1, 2000 - 36 days since Benjamin died
He was a beautiful child…in body and in spirit. With blue eyes that sparkled like diamonds in the sky. An amazing smile reflected in the face of everyone he touched. His two year-old chatter and precious laughter…our music.
At times, I scream, "Give my Benny back! I want my Benny back!" But there is no response. Listen, the silence is deafening...void of our music, void of our Benny.
Life stopped with the last beat of his heart. My whole being is longing. My eyes, my nose, my ears, my lips, my hands, my arms, my heart…all deprived of their greatest pleasures.
Teletubbies, Barney and Pooh, leave us alone...he's not here to watch you, so just GO AWAY! My Benny is gone...he's not here to play.
What do we do with our shattered hearts? Too much love to give, too little time to share. If only love could have saved him, he'd still be here. Brutal, blunt death, you thief. So cruel...so final.
Life goes on, or so they think. Back to work, I wear a different face, a different personality. But…at night…I cry. Empty, angry, lost, lonely, sad.
Few whose worlds remain unscathed can begin to understand the bitter agony left for us who mourn for our children. Futures are gone when children die. No future? Then what?
The tender kindness of my caring friends is my lifeline. Those who lend an open ear. Beaten and worn, I limp through the days. My hope is for heaven, but until then, I must honor my precious son. I must sustain his memory and my love.
Loving and missing you precious Benjamin,
Mommy
Footprints in the Sand
One night a man/woman had a dream that he was
walking along the beach with the Lord.
Across the sky flashed scenes from his life. For each
scene, he noticed two sets
of footprints in the sand; one belonging to him, the
other belonging to the Lord.
When the last scene of his life flashed before him, he
looked back at the
footprints in the sand. He noticed that many times along the path of his life
there was only one set of footprints, and that it
happened at the very lowest
and saddest times in his life...
This really bothered him and he questioned the Lord about it.
"Lord, you said that once I decided to follow you,
you'd walk with me all the way.
But during the most troublesome times in my life,
there is only one set of footprints.
I don't understand why when I needed you most,
you would leave me."
The Lord replied, "My precious, precious child. I love
you, and I would never
leave you. During your times of trial and suffering,
when you see only one set of footprints, it was then that I carried you."
A coloring, by our precious Benjamin
April, 2000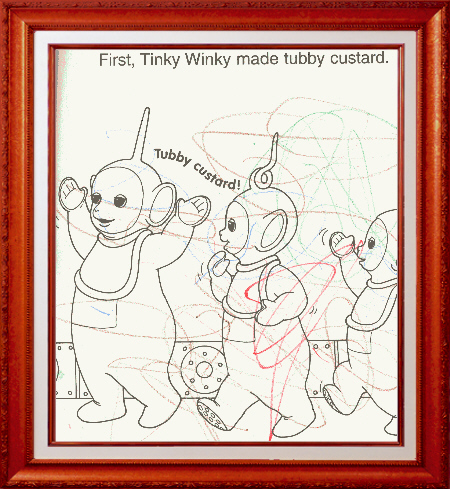 An artist, and his tools.
The colors Ben received from his Aunt Angie and Uncle Steve for his second birthday. These will be treasured forever. My precious Benjamin's hands used these little crayons. He loved to color, draw, paint or do projects. I miss him beyond imagination.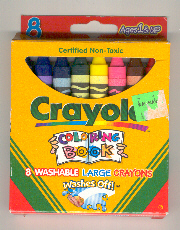 June 9, 2000 - 44 days without Ben
Benjamin would have been 27 months old today. No one can truly comprehend the depth of the grief a parent who loses a child feels, except those who have experienced the loss first hand. It's an incredibly brutal force. The loneliness, sadness and incredible physical pain are beyond most people's comprehension. They could not even imagine how deep the emotions run, no matter how long and hard they tried.
I've been able to bury my head and work four days this week. I guess I would say it helps in that it forces me not to think of Ben every single moment of the day. It does not, however, make any of the grief go away. I have to just tuck it away at work, as best I can, until it finally has built up to the point of overflowing. This doesn't take days to happen, just minutes, sometimes, if I am lucky, a few hours.
People say things like "You look good" or "You look better." Sure, at that very moment they see me, I'm not curled up in a ball, crying until my eyes are nearly swollen shut, feeling like my heart and soul have been ripped out. For that tiny little moment, I probably do look good...on the outside...to them.
I miss my Benjamin beyond imagination.
Love you, Benny Lump Lump.
June 16, 2000 - 51 days without Ben
A bullet to my chest,
Could bring no more destruction
Than the pain ready to burst at the seams
Of my broken, devastated heart.
Solitary confinement
For a dejected, isolated prisoner
Could be no more cold, dark and chilling
Than this loneliness of my shattered being.
I'm dying inside, and nobody knows it but me.
- The grieving Mother of Ben
July 10, 2000 - 74 days without Ben
No poetry, just emptiness. I still miss Ben more than most can begin to imagine. We have moved into our new home, but it is so empty without Benjamin. We have seen tadpoles, frogs, turtles, snakes (ick!), and today, a doe, all in our back yard. Benjamin would have marveled at them all, with the true innocence and beauty only a two year-old has.
I still struggle through my days, not yet making it a single day without tears or deep pain. Benjamin was our "buddy" and we miss him so much. Do not think we are weak for "lingering" in this pain. If you do, it simply says that you have not lost a child and have no concept of how deep the hole is in our hearts upon their death.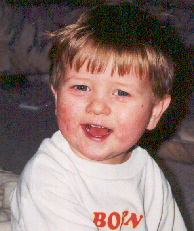 A very special thank you to a very special person, Benjamin's "second mom", our nanny, Tara, for this wonderful picture. It was taken 12/99, when Ben was 21 months old. It shows the loving spirit we all came to know and love so well. We miss you, Benny!!
August 18, 2000 - nearly 4 months without Benjamin
Friend, Please See Me Through My Tears

You asked, "How are you doing?"
As I told you, tears came to my eyes...and you
looked away and quickly began to talk again.
All the attention you had given me had drained away.

"How am I doing?" I do better when people listen
though I may shed a tear or two.
This pain is indescribable. If you've never known it, you
cannot fully understand.
Yet I need you.

When you look away,
I am again alone with it.
Your attention means more than you can ever know.

Really, tears are not a bad sign, you know!
They're nature's way of helping me to heal.
They relieve some of the stress of sadness
....but you are wrong.

The memory of my loved one's death will always be with me,
Only a thought away.
My tears make my pain more visible to you, but you did not
give me the pain...it was already there.

When I cry, could it be that you feel helpless, Not knowing what to do?
You are not helpless,
And you don't need to do a thing but be there.
When I feel your permission to allow my tears to flow,
you've helped me

You need not speak. Your silence as I cry is all I need.
Be patient...do not fear.

Listening with your heart to "how I am doing" relieves the pain
for when the tears can freely come and go, I feel lighter.
Talking to you releases what I've wanted to say aloud,
clearing space
for a touch of joy in my life.

I'll cry for a minute or two... and then I'll wipe my eyes
and sometimes you'll even find I'm laughing later.
When I hold back the tears, my throat grows tight,
my chest aches, my stomach knots...
because I'm trying to protect YOU from my tears.

Then we both hurt ME, because my pain is held inside,
a shield against our closeness and YOU,
because suddenly we are distant.

So please, take my hand and see me through my tears...
then we can be close again.

Author Unknown
September 14, 2000 - Four months and 19 days without Benjamin
(Lord, how I miss him)
Sea of Grief
We left the dock in February of 1998. It was a bright and sunny day, no

clouds in sight. We were a family of four, soon to be five. What a

wonderful journey it was. The quiet, calm water was so beautiful and

clear. We could see the reflection of all our hopes and dreams.

And
then from out of nowhere a storm hit, fast and furious. Blinding,

crashing waves ravaged us with salt water, burning and stinging. The

dark clouds stole the sun. The water became murky and dark, an endless

pool of black. We struggled through the storm, sailing blindly for

quite some time until we found an island. It was an island of hope, an

island of chance.

We rested there for a short time, and then the glorious sun came out again. Shining down so beautifully and bright,

just like those wise and beautiful blue eyes that gazed into mine. We set sail again, now a family of 5, all the while knowing that the storm would hit again. Anytime. Anyplace. It could hit with no warning at all. We hoped. We prayed. We cried and we begged for the storms to

leave us, to no avail.

The storm hit again, in the darkness of the

early morning. Throwing us to and fro. Sending us into terrifying waves of murky, cold water. Stinging with saltwater and chilling to the bone. Sending our hopes crashing like the sails. Tearing in the roaring winds, coming apart in shreds as we watched our baby's life fading away; feeling so helpless, lost and scared; at the mercy of the

winds. This storm hit so fast and furious, it gave us no chance to do

anything but say goodbye and brace for more storms we knew would surely

come. They were there the whole time, on the horizon, never far away.

We've been through storm after storm in what's left of our ship. The

sails are shredded, gaping with holes that only time can try to stitch.

The seawater continues to leak in. The winds whip us in every

direction. There are times when the water's calm and the winds

just softly blow. Just enough to let us know it's still in control;

we're still at its mercy. The water sometimes clears enough to see the

beginning of a reflection. The beginning of something like hope, like

survival. The sun shines down and dries the saltwater from our skin,

the tears from our eyes. There are times that the waves rock us to

sleep, an almost peaceful feeling. We almost feel in control again. As

much as we prepare ourselves for the next storm, we never know when it's

going to hit or just how hard.

It's something we're learning to live with. We're just drifting through, enjoying the beauty in the calm water, and dreading the darkness of the storms. Just drifting on the sea.

Dedicated to the memory of Logan Vaught 12/7/98 ~ 12/9/98 HLHS and to

all my friends who drift these sea's with me.

Desiree Vaught
September 24, 2000 - Five months of longing
This song so poignantly portrays my pain and longing and searching. To hear the music with the words, click here:
Song Title: Hold Me Jesus
---
Artist: Rich Mullins
Album Title: Songs
Lyrics:
Well, sometimes my life
Just don't make sense at all
When the mountains look so big
And my faith just seems so small

Chorus:
So hold me Jesus, 'cause I'm shaking like a leaf
You have been King of my glory
Won't You be my Prince of Peace

And I wake up in the night and feel the dark
It's so hot inside my soul
I swear there must be blisters on my heart

Repeat Chorus

Surrender don't come natural to me
I'd rather fight You for something
I don't really want
Than to take what You give that I need
And I've beat my head against so many walls
Now I'm falling down, I'm falling on my knees

And this Salvation Army band
Is playing this hymn
And Your grace rings out so deep
It makes my resistance seem so thin

Repeat Chorus

You have been King of my glory
Won't You be my Prince of Peace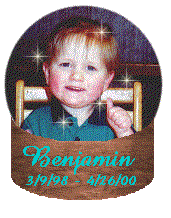 (Thanks, Dolly, for this beautiful globe!)
November 25, 2000 - Seven Months
There just simply are no words to describe the moments of the days since I last wrote. It is simply too painful and too dark to share with the world, so I will not even attempt it. All I will say, is "Thank You" to those people who don't expect us to have "gotten over" or "moved on" from the death of our precious Benjamin. In time, I know the pain will ease, but the time has not come yet, especially with the holidays approaching.
Only those who have lost a child can fully understand. To those families I have met along the way, thank you, so much.
Christmas In Heaven
December 25, 2000

I see the countless Christmas trees, around the world below
With tiny lights like heaven reflecting on the snow.

The sight is so spectacular, please wipe away that tear,
For I am spending Christmas with Jesus Christ this year.

I hear the many Christmas songs that people love so dear,
those sounds of music can't compare with the Christmas Choir up here.

I have no words to tell you the joy their voices bring
For its beyond description to hear the angels sing.

I know how much you miss me, but please remember dear,
That I am spending Christmas, with Jesus Christ this year,

I can't tell you of the splendor or the peace inside this place.
Can you imagine Christmas with our Savior...face to face?

I'll ask Him to light your spirit as I tell Him of you love,
So then pray for one another, as you lift your eyes above.

So please let you heart be joyful, and let your Spirits sing,
As I am spending Christmas, in HEAVEN...
and I am walking with the KING!

Author: Unknown
January 20,2000 - 9 months without Ben
It's hard as I sit here and think about the upcoming months. February 14th, Valentine's Day, would be Matthew's 7th birthday. Seven years old...it's so hard to imagine what he'd be like...what he'd be doing.
Then will come Benjamin's third birthday on March 9th. The thought of it makes me sick to my stomach. As I write this, I flash back to when I used to update Ben's site when he was alive, anticipating the days to come, yet still living in fear that we could lose him. It was a different kind of sickening feeling. I can't even imagine what we will do on his birthday.
Then will come that awful month of April. The 26th will be the one year anniversary of Ben's death (and my 34th birthday) and the 28th will be the 7th anniversary of Matthew's death.
Not the life I'd hoped for...not the life I'd ever dreamed of...but my life none-the-less, and my sons, none-the-less. If I had to do it all over again, I wouldn't hesitate. The love and joy and beauty they brought to my life will forever be in my heart, sitting hand in hand with the pain and loneliness I feel in their absence. God bless you precious boys.
February 21,2000 - 10 months without Ben
SPECIAL LITTLE SPIRIT
"You're a Special Little Spirit,"
the all great Master said,
As he gently caressed
the curly blond hair of the Little Spirit's head
"You need to go to Earth
to spend some time, you know,
A place I send most Spirits
to be tested, to learn, and grow."
The Little Spirit, in sadness,
slowly bowed her head,
And from her eye a tear did steal
and down her cheek it shed.
"Don't you fret now little one,
I won't let you stay too long,
I'll bring you back to help me here,
You'll hardly know that you've been gone.
You're my choicest Little Spirit,
you're the apple of my eye."
And he wiped the tear and gently kissed
His Little Spirit good-bye.
"I'm back," the Little Spirit whispered,
as she climbed onto her Master's knee,
And the Master said,
"I told you, you would not be long away from me."
And then, the Lord, He noticed
still another tear welled in her eye.
"Why are you so sad, Little Spirit,
whatever should make you cry?"
"I'm glad I'm back," the Little Spirit said,
"but Master you must surely know,
When Your Angel came to get me,
I did not want to go.
I know You said You needed me,
and that I'd be gone the shortest while,
But Lord, couldn't I have had
a little longer earthly trial?"
The Master let the Little Spirit
slip down from off His knee,
He firmly took the little hand and said,
"Come walk with Me."
The Little Spirit and the Lord
slowly walked hand in hand,
As the Master explained her special part
in the great and marvelous plan.
"Now, Lord, I don't mean to argue,
I understand that you needed me home.
But I left in such a hurry,
I left everyone hurting and so alone.
I didn't let my earthly parents know
how much I loved them so.
I was too small to tell them Lord,
how will they ever know?
They feel they've been cheated,
and in a way, so do I.
Not getting to share any more than we did,
how can I ever tell them why?"
"Little Spirit, I know your heart is heavy
with this message you need to share.
But you need not worry anymore,
I'll watch over your loved ones there.
I'll send them loving comfort
as a strong and helping hand.
I'll contend and give peace to their aching hearts,
so they will understand."
The Little Spirit looked up at her Master
and said "Thank You for explaining it to me.
And could you please tell them
that I'm safe and happy, and that someday
They'll be here with me?"
"Yes," said the Lord with a smile and a nod,
I'll tell them all that I can.
Then the others came to see the Little Spirit,
as the Lord let go of her hand.
He said, "I'll tell them that you're pure,
as pure as Heaven's Gold,
That I needed the warmth of your perfect soul
to keep Heaven from getting cold"
AUTHOR UNKNOWN