July 6, 1999 - 16 months old
Benjamin is doing absolutely wonderful so far this summer! He is just getting over having thrush and strep throat and scaring his mom and dad for about five days, but overall, he's been doing great since his last hospitalization in February.

Ben now weighs about 20 lbs. and has finally made it onto the growth chart at the 8th %. He had been running about 5% below the growth chart for his age, so this was quite a cause for celebration.

Ben is in physical therapy once a week. He cruises freely around furniture and is becoming quite the climber! He will stand up from his little stool and take 2-3 steps to us, but that's about his limit right now. His vocabulary consists of dada, mama (rarely), car...which he uses for Connor, Nicole and CAR, his favorite toy! He also says many other sounds, but nothing that is real clear, yet. He had a speech evaluation in April. We were told he's doing exactly what he should for his age, so we do not need speech therapy at this time. They will recheck at 18 months.

We took our first real family vacation this summer, venturing to Denver (from Minneapolis). We hit seven states in 10 days and are glad it is over. Although we went up into the Rocky Mountain National Forest, we did not take Benjamin along due to the altitude. His oxygen sats have been running around 79-80% the last month or so, so we did not want to risk having these drop any further.

For now, we do not have to go back to the cardiologist until September. At that time, they will probably do an echo of Ben's heart to see how it is functioning. Sometime (probably within the next year), we will probably be facing another heart cath and then the Fontan. For now, however, we focus on today and all the joy Benjamin is bringing to our lives!

August 8, 1999 - 17 months old
We just got back from Wisconsin Dells, WI. We met with five other families from the PD Heart list, some of whom we've "talked" with on the internet since we found out about Ben's heart defect. It was wonderful to meet others who have gone through similar surgeries, feelings and issues with their "heart-kids". As soon as I have the pictures developed, I will get them on the web.

Ben's doing great. He's now walking. He also loves the Teletubbies, much to my dismay. His favorite is "Po", which he can say. He's also saying "stuck", "didyaseeit?", "wow", "whoa", and "cool". He loves cars and balls and is just a blast to be with right now. He really enjoyed the water and the water slides at the Dells. The only problem he had was dealing with the heat. It was about 85 degrees and sunny, and it was just too much for him. As soon as we got into our air conditioned hotel room, he was fine.
September 5, 1999 - 18 months old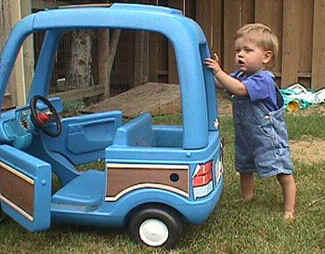 Ben and his car...his favorite word, too!
Ben is doing OK. He's been fighting a fever and diarrhea, but seems to be getting better. A quick call to the cardiologist revealed that Ben may get to come off his digoxin and vasotec at his next appointment (9/16). Then he would only be on 1/2 baby aspirin a day! Dr. Singh said that the chances for heart failure are very reduced after the Glenn, so the digoxin really is not needed.
September 17, 1999 - 18.5 months old
Benjamin had an AWESOME checkup! Dr. Singh did take him off Digoxin, but kept him on Vasotec for his blood pressure, just as a precautionary method. The best news of all is that there was no talk of doing the next surgery, the fontan, right now!! We don't even have to go back for a checkup for 6 MONTHS! We are so very, very thankful for this news. Ben's oxygen saturation levels were actually 88-90, which is the highest they have ever been. At his last appointment in May, he was only in the upper 70's. We were told that it could be 4-5 years before the next surgery IF Ben's levels stayed in the upper 80's. That's quite unlikely, but it was sure nice to hear. When Ben goes back in March, 2000, they will do a heart cath, which will give them a much clearer picture on how Ben's heart is doing. Until then, we look forward to updating this site with pictures of Halloween, Thanksgiving and Christmas!
November 1, 1999 - 20 months old
Benjamin is still doing very well. He was hospitalized for two days with croup at the end of September, but since then, has developed in leaps and bounds. He's running around the house, keeping us busy at all times. He's talking a mile a minute, too. He had a speech evaluation, but tested at or above his age level in all areas, so he does not need speech therapy. He continues with physical therapy once a week, simply to help with the fine motor development. All things considered, our little Benjamin is just like any other healthy active 20 month-old. We try not to think of what lies ahead, but instead choose to enjoy every minute with him and our other two children!
January 6, 2000 - 22 months old
We have had a relatively calm last few months. Benjamin is still doing pretty well, although we feel it may be getting close to time for the fontan. Ben seems to be getting a little more blue, which may mean he's outgrowing the current capacity of his heart. He eats like a horse, so this certainly may be the case. We were trying to get to March without a check up, but we have decided to move that up. Ben's next appointment with the cardiologist is January 27th. We expect to probably just check his oxygen levels and maybe have an x-ray done, to see if the heart has enlarged any. We will probably then schedule a cardiac catheterization, which will tell us whether Ben's cardiac condition looks good to attempt the fontan. Please keep Ben in your prayers.
January 27, 2000 - 22.5 months old
What WONDERFUL news we received today! Benjamin had a cardiology appointment, and we could not have asked for things to have gone any better! His sats were around 85% (despite his bluer color). He had a sedated echo, which came back with very positive results. His heart function, coarc. repair site, and pulmonaries look very, very good. He has just slight tricuspid valve regurgitation, but that's nothing to worry about right now. He weighed in at a whopping 22lbs. 10 oz. We were sure he'd weigh more simply because he's eating like a horse, but that just wasn't the case.
We were told that we don't need to go back for a cardiology check-up until May. At that time, we'll start discussing what we need to do next. We were told to expect the fontan sometime in the Fall. What wonderful, wonderful news that was! We get to enjoy our summer without it being interrupted or put on hold for surgery!
April 16, 2000 - 2 years, 1 month!!
BENJAMIN TURNED TWO YEARS OLD!! Benjamin continues to do very well! He's as normal as any other two year-old! Ben is climbing all over things and getting into trouble. He loves the outdoors, Barney, Teletubbies and his baths! We are scheduled for a check-up next month, possibly to schedule a heart cath. We'd like to delay the whole process until after July. We have taken on the task of building a new home, which should be done the end of June. We hope and pray that Ben continues to do well through the summer!!