"Heart Family" Gathering - Wisconsin Dells, WI
August 6, 1999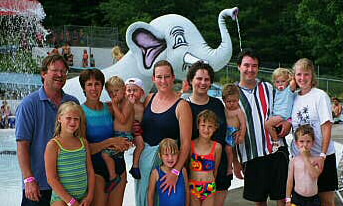 There were six families who gathered together from across Wisconsin and Minnesota to share the common bond of having a child(ren) with heart defects. It was a beautiful day to be at the Family Land water parks (indoor and outdoor), as you can see by the photos below! For me (Ben's mom), personally, it was so nice to meet some of the people I have "talked" with for the last 19 months on the internet...since we were told about Ben's heart defect when I was 7 months pregnant.
CLICK ON ANY PHOTO BELOW TO ENLARGE!
| | | | | |
| --- | --- | --- | --- | --- |
| | | | | |
| Benjamin Cusick - HLHS - 17 months old! | Philip, Kennedy, Zachary & Ben | Philip, Kennedy, Zachary & Ben (Philip hated getting his picture taken!) | Zachary & Ben, both HLHS and just one month apart. | Benjamin did much better at the air-conditioned indoor water park! |



| | | | | |
| --- | --- | --- | --- | --- |
| | | | | |
| Kennedy Jilot, Tricuspid Atresia 17 months old | Sarah, Sue, Mark and Philip (3 yrs old, HLHS) | Zachary...happy as can be...just finished eating! | Benjamin's brother, Connor...the fish! | Benjamin's sister, Nicole...loved the Dells! |